The football's media narrative of Lamar Jackson has been a rollercoaster as of late. Just one year ago, Jackson became the second unanimous MVP in NFL history after setting the single-season record for rushing yards by a quarterback. He was on the cover of Madden. Every kid on the playground wanted to juke out defenders just like him.
Now, Jackson has fallen out of the 'elite' category in many minds. This week, Pro Football Focus (PFF) generated headlines by omitting him from a list of the 50 best players in the league. Why the sudden drop-off? Jackson did fall short of expectations last year, but improving on his historic 2020 season was almost impossible. Don't let recency bias obscure the fact that Jackson remains one of the most dangerous passers in football today.
1. Even Legends Have Down Years
The NFL media has a habit of declaring that players have lost their touch after a single disappointing season. Just one year ago, the sports world had decided that Aaron Rodgers was entering the decline of his career and had "lost his timing." He responded by setting career-highs in touchdown passes and completion percentage in his 2020 MVP season. Peyton Manning and Tom Brady also both won Super Bowls after being written off by the media.
Obviously Lamar Jackson has not quite reached the status of those legendary players, but the point still stands. The 16-game NFL season is incredibly short — making generalizations about a player after one bad year is like denouncing a baseball player after a couple of bad weeks. Jackson should be judged based on what we know he is capable of, not only what we have seen recently.
2. Baltimore's Receiving Corps Is Among The League's Worst
Nearly every quarterback ranked above Jackson on PFF's top 50 players list has one thing in common: an elite wide receiver to throw to. Patrick Mahomes has Tyreek Hill; Josh Allen has Stefon Diggs; and Lamar Jackson has … Marquise Brown?
It is unreasonable to judge Jackson's passing stats without taking into account the lack of talent around him. Allen did not become a star player until Diggs joined his team. Yes, he did take great strides as a passer last year, but there's no denying that Diggs was at least partially responsible for the turnaround.
Jackson, however, has had no such luck. Baltimore's wide receivers earned a combined 68.5 pass-catching grade from PFF last year, fourth-worst in the league. None of them had over 800 yards. The Ravens used a first-round pick on Rashod Bateman to try and turn things around, but it is unlikely that the group will be much better next year.
Despite that lack of talent, Jackson had the seventh-highest QBR in the league last year. He is the only quarterback in the top 10 without a Pro-Bowl-caliber receiver.
3. His Arm Talent Is Real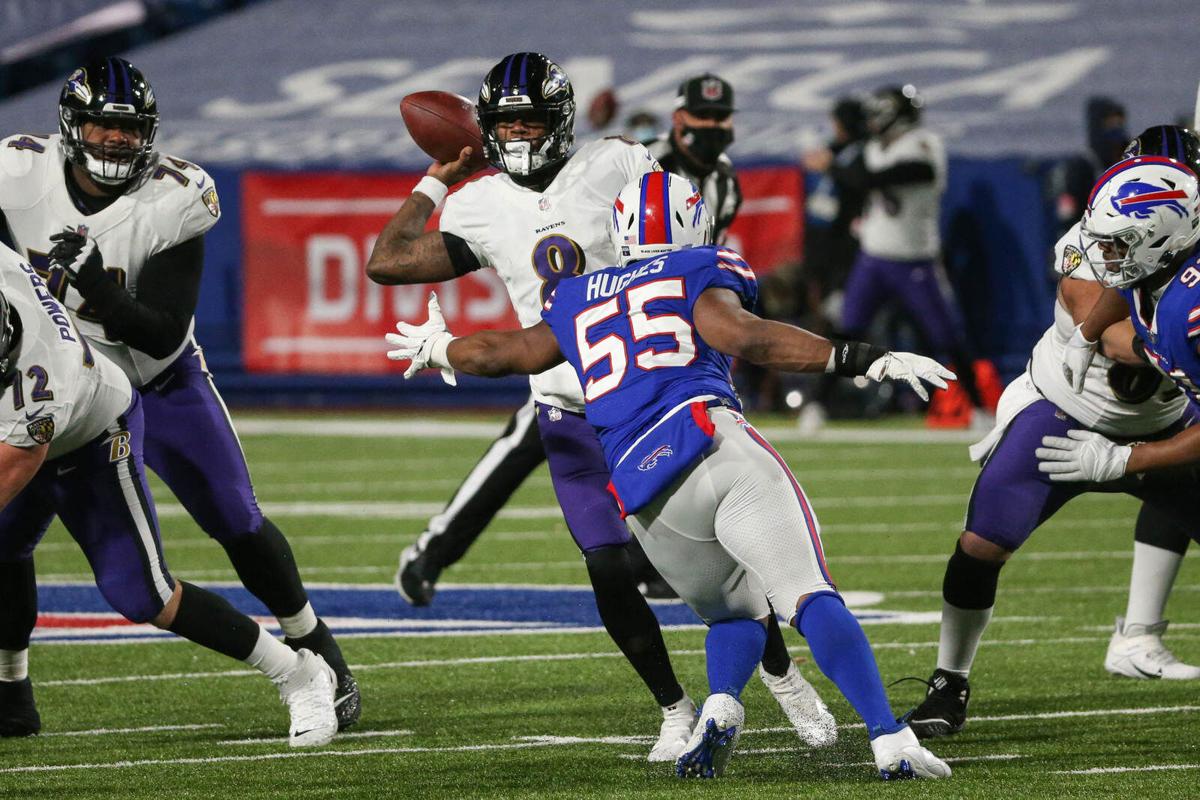 Though Jackson's passing ability is less impressive than his running, he is more than capable in the pocket.
Baltimore's offense is built entirely around running the ball. They ranked first in the league in rushing yards last year and had 31 runs of over 20 yards. That explosiveness allows Jackson to focus more on short plays in the passing game, at which he is among the league's best. He had a 73% completion percentage on short throws last year, one point behind Mahomes.
Even if Jackson never becomes an elite deep ball thrower, his accuracy and ability to move the chains will keep Baltimore in Super Bowl contention for years to come.
https://baselinetimes.com/wp-content/uploads/2021/06/Baseline-Times-Featured-3.png
423
1210
Jeremy Portnoy
https://baselinetimes.com/wp-content/uploads/2017/04/BTheader.png
Jeremy Portnoy
2021-07-01 14:55:53
2021-07-03 11:27:12
Three Reasons Why Lamar Jackson Deserves Your Respect