10 Best WWE Superstars of 2017
2017 was a rough year for WWE Superstars. There were plagues of injuries, subpar storylines, and pushes that halted. However, some Superstars did become brighter in 2017, and others kept their remarkable paces going. The Superstars on the list are a mix of the best in-ring matches, promos, storylines, and overall entertainment value of the wrestler. These are those Superstars.
Honorable Mentions
Rusev and Aiden English
Randy Orton
Asuka
Sami Zayn
Chris Jericho
10. Brock Lesnar
BROCK LESNAR. The man was so busy defending WWE against the Universe that he shows up when he wants. When he does, there's usually carnage and a lot of big moves to go with it. Holding the red strap since Wrestlemania, the Beast Incarnate may keep the belt until mania, and there's not much any mortal man could do about it.
Notable Match: AJ Styles vs. Brock Lesnar (Clash of Champions)
9. Kevin Owens
The former Universal Champion had a quietly excellent year in WWE. The breakup of him and Jericho was the story of WWE heading into Mania, and Chris left putting Owens over.  Ownes had a period of being saddled without a great opponent who could bring out his best in-ring work. He and Zayn have been fantastic together at the end of the year, and I hope he gets into the WWE title picture very soon in 2018. He's probably the best heel Smackdown has at the moment in their single's division.
Notable Match: Kevin Owens vs. Shane McMahon (Hell in a Cell)
8. The Bar (Sheamus and Cesaro)
Collectively Sheamus and Cesaro have helped to keep Raw's tag team division at a good caliber. The two European born stars have gelled into something great together. Their seemingly year-long feud with The Shield is hopefully coming to an end, but with the current booking, who knows?
Notable Match: The Bar vs. The Shield (Raw 11/7)
7. Dean Ambrose and Seth Rollins (The Shield)
After the brand shakeup in 2017, it was almost impossible to see one of these men without the other one. I thought about separating them on this list, but their best run was once they joined forces. Their matches against the Bar were tremendous and after the inclusion of their third wheel Roman Reigns, these two still shined together, especially in Reigns' absence. Hope you come back stronger than ever, Dean.
Notable Match: The Shield w/ Kurt Angle vs. Braun Strowman, Miz, Kane, and The Bar (Summer Slam)
6. Roman Reigns
The current Intercontinental champion Roman Reigns had a great year. At Wrestlemania, he beat the Undertaker being his highlight of the year. Roman's being kept in the chamber so he can slay Lesnar at Mania and we all know it. However in-ring he's had some great moments and his "This is my Yard Now" promo may be the best of his career.
Notable Match: Roman Reigns vs. Undertaker (Wrestlemania)
5. Braun Strowman
BAAAAAAAAAAAAAAAAAAAAAAAAAAAAAAAAAAAAAAAAUN. Talk about a breakthrough year for a Superstar. Strowman was let loose from the Wyatt Family and spent most of the year laying waste to Roman Reigns. After having his momentum halted by Brock, hopefully, next year brings some gold his way.
Notable Match: Braun Strowan vs. Roman Reigns (Ambulance Match) (Great Balls of Fire)
4. The New Day
After their historic title reign was ended by The Bar, The New Day seemed aimless on Raw. Then they were moved to Smackdown and had the feud of the year with The Usos. It's only a question of whether The New Day should be separated or kept going, either way, all these guys are incredible talents, and I look forward to everything they do.
Notable Match: The New Day vs. The Usos (Battleground)
3. AJ Styles
It feels like AJ Styles spent most of 2017 in subpar feuds that ended up with fantastic matches. A run with Baron Corbin made him cool off a bit, but high level matches with Lesnar, Cena, Balor, and more established Styles was high on this list. Plus he somehow made Jinder look okay for 15+ minutes. The Phenomenal one is the current WWE Champion and I hope 2018 brings memorable feuds for him while he's in this position.
Notable Match: AJ Styles vs. John Cena (Royal Rumble)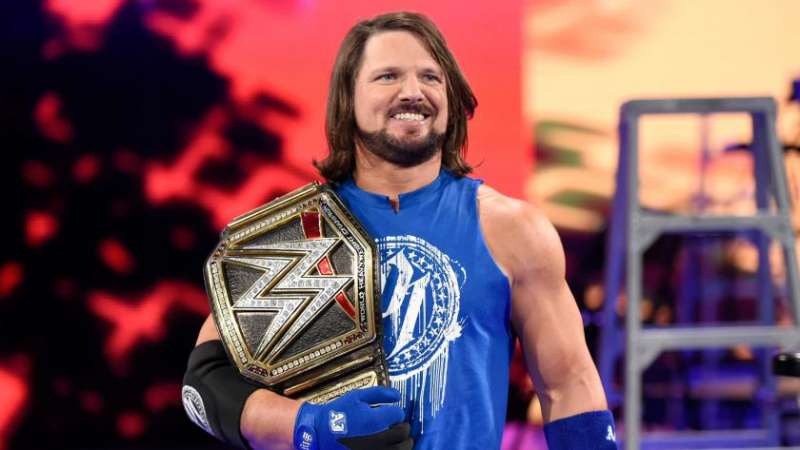 2. The Miz
The only reason Miz isn't #1 on this list is that he didn't have a remarkable match this year. The Miz's mic work, in-ring psychology, and just overall wrestling business sense aren't matched by many this year. Taking him off of Smackdown was a massive mistake by WWE, he owned that show and Talking Smack. I can only hope The Miz comes back, gets his IC Title again, and keeps his fantastic run going. Thank you, Miz.
Notable Feud: The Miz vs. WWE
1. The Usos
Welcome to the Uso Penitentiary! 2017 was the year of The Usos. At the beginning of the year, The Miz and The Usos made Smackdown the program to watch. Heel Usos have been the best makeover in WWE in quite some time. The rap battle promos, the matches with New Day, American Alpha, and others have solidified The Usos as my favorite Superstars of the Year. If WWE had any sense, they'd give these guys the main event match at a PPV. Every Smackdown PPV slumped after their matches, and they'd usually be the first ones. I'm all in on some Day One Ish, and I hope WWE gives them their due come Wrestlemania 2018.
Notable Match: The Usos vs. New Day (Hell in a Cell)
Agree or Disagree? Leave a comment below. Then head over to Twitter and Instagram to follow us @Baselinetimes and @TheHoWPod. Peace.
Senior Editor/Heels of Wrestling
@MXMurden on Twitter and Instagram
https://baselinetimes.com/wp-content/uploads/2017/12/maxresdefault.jpg
720
1280
Markus Murden
https://baselinetimes.com/wp-content/uploads/2017/04/BTheader.png
Markus Murden
2017-12-28 17:52:07
2017-12-28 22:37:01
10 Best WWE Superstars of 2017